As February continues it can be difficult to stay motivated and stick with your health goals and resolutions. At Weight Loss Direct we find that the easiest way to keep a healthy diet is to find simple delicious recipes that include one or two highly nutritious ingredients. In this article we will be giving 4 simple recipes that can help you reach your goals and have a healthier heart.
Here are just a few of our favorite recipes for promoting a healthy heart!
Creamed Spinach
Spinach – heart healthy fact – full of vitamins and minerals. Especially vitamin K which helps protect arteries and blood clotting. Leafy greens like spinach are also high in dietary nitrates which help relax blood vessels and lower blood pressure.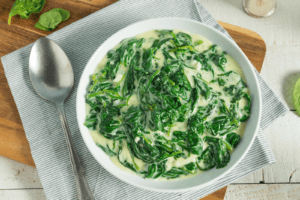 Servings: 1 Calories: 96kcal
Ingredients
5 cups baby spinach
2 tbsp nutritional yeast
1/4 cup plain kefir
1/4-1/2 tsp garlic powder
1/4-1/2 tsp xanthan gum
pink salt & pepper, to taste
Instructions
Steam spinach in saucepan with about 1/4 c water then drain
Stir in nutritional yeast, kefir, garlic powder, pink salt, and pepper
Remove from heat and stir in 1/4 t xanthan gum (stir in additional xanthan gum if you desire a thicker sauce)
Nutrition
Calories: 96kcal | Carbohydrates: 13g | Protein: 12g | Fat: 1g | Saturated Fat: 1g | Sodium: 141mg | Potassium: 1137mg | Fiber: 8g | Sugar: 1g | Vitamin A: 14066IU | Vitamin C: 42mg | Calcium: 149mg | Iron: 5mg
More Health Benefits of Spinach
This creamed spinach recipe is rich and easy to make but it's also a healthy meal to add to your diet. Spinach is one of our favorite ingredients because it is both healthy as delicious! Here are just a few of the benefits you can get from adding more spinach to your diet.
Spinach contains an antioxidant known as alpha-lipoic acid, which has been shown to lower glucose levels, increase insulin sensitivity, and prevent oxidative, stress-induced changes in patients with diabetes.
Spinach contains chlorophyll. Several studies, including this 2013 study carried out on 12,000 animals, have shown chlorophyll to be effective at blocking the carcinogenic effects of heterocyclic amines
Risks for developing asthma are lower in people who have a high intake of beta-carotene. Spinach is an excellent source of beta-carotene
Contains high potassium content, spinach is recommended for people with high blood pressure. Potassium can help reduce the effects of sodium in the body
Spinach is high in Vitamin C, which is crucial for the building and maintenance of collagen, which provides structure to skin and hair.
Blueberry Pudding
Blueberry – heart healthy fact – rich in antioxidants which combat oxidative stress and inflammation that contribute to heart disease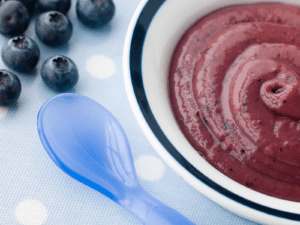 Servings: 1 Calories: 219kcal
Ingredients
1/3 cup frozen blueberries
1/2 avocado
1/4 cup chopped cucumber
1 tbsp chia seeds
6 drops liquid Stevia
Instructions
Blend all ingredients in food processor until combined
Top with toppings of choice, if desired
Nutrition
Calories: 219kcal | Carbohydrates: 14g | Protein: 4g | Fat: 18g | Saturated Fat: 3g | Sodium: 9mg | Potassium: 536mg | Fiber: 11g | Sugar: 1g | Vitamin A: 145IU | Vitamin C: 10.1mg | Calcium: 88mg | Iron: 1.5mg
Health Benefits of Blueberries
Blueberries may be sweet but that doesn't mean they are unhealthy. Blueberries have more antioxidants than most of the other foods we eat and can positively impact your health in many ways.
Blueberries help combat heart disease by reducing risk factors like high blood pressure and studies have even linked the antioxidants in blueberries to a lowered risk of heart attacks https://pubmed.ncbi.nlm.nih.gov/23319811/
The antioxidants in blueberries can reduce damage to DNA which can slow the aging process.
Blueberries are the king of antioxidants and protect our bodies from decay. This includes maintaining brain function and even helping to prevent cancer.
Blueberries can also help people manage diabetes! although they won't replace insulin or any medicines you may need.
Chocolate Avocado Mousse
Avocado – heart healthy fact – filled with heart healthy fats that help lower cholesterol and improve heart health. Avocados are also rich in potassium which helps to reduce blood pressure and risk of stroke.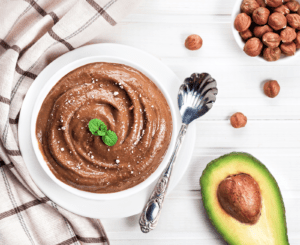 Servings: 2 Calories: 195kcal
Ingredients
1 ripe avocado
1/4 cup cocoa powder
1/4 cup unsweetened almond milk
1 tsp vanilla extract
15 – 20 drops liquid Stevia
Instructions
Combine all ingredients in food processor
Process until smooth and fluffy
Serve chilled
Nutrition
Calories: 195kcal | Carbohydrates: 15g | Protein: 4g | Fat: 17g | Saturated Fat: 3g | Sodium: 50mg | Potassium: 651mg | Fiber: 10g | Sugar: 1g | Vitamin A: 147IU | Vitamin C: 10mg | Calcium: 63mg | Iron: 2mg
Benefits of Avocados
From avocado and toast to Avocado and moose these Fruits (yes they are fruits) are packed with healthy fats that can help more than just your heart.
Avocados can help your eyesight! The carotenoids in avocados help reduce the risk of macular degeneration, the leading cause of vision loss as we age.
Avocados can help you feel fuller longer. A small study has found that the fats in avocados can lead to increased satiety after a meal. https://nutritionj.biomedcentral.com/articles/10.1186/1475-2891-12-155
Avocados are also incredibly nutritious with a simple 3.5 oz. serving containing 26% of your daily value of Vitamin K, 17% of your daily value of vitamin C, and 20% of your daily value of Folate.
You can find more potassium in an Avocado than a banana. Potassium helps lower blood pressure, promotes bone health, and keep your muscles from cramping after a long day.
Creamy Tomato Soup
Tomato – heart healthy fact – tomatoes are loaded with lycopene (the pigment and antioxidant which give tomatoes their red color). Studies show that lycopene helps fight free radicals, reduce inflammation, and decrease risk of stroke and heart disease.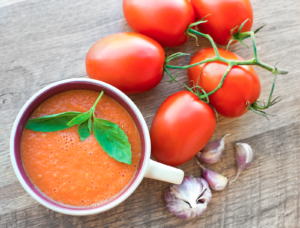 Servings: 1 Calories: 157kcal
Ingredients
1 clove garlic minced
14.5 oz canned diced tomatoes
1/2 tsp oregano
1/2 tsp thyme
1/2 tsp parsley
1/2 c low fat cottage cheese
pink salt to taste
pepper to taste
Instructions
Drain a little juice from the tomatoes into a saucepan and sauté the garlic for a minute.
Dump in the tomatoes and spices and simmer for 5 minutes.
Add cottage cheese and blend until smooth. An immersion blender works great for this if you have one. If not, transfer the soup to your blender to puree.
Season with salt and pepper to taste and serve.
Nutrition
Calories: 157kcal | Carbohydrates: 20g | Protein: 17g | Fat: 1g | Saturated Fat: 0g | Cholesterol: 4mg | Sodium: 1047mg | Potassium: 869mg | Fiber: 4g | Sugar: 12g | Vitamin A: 480IU | Vitamin C: 39.2mg | Calcium: 196mg | Iron: 4.2mg
More health benefits of tomatoes:
Tomatoes are a polarizing food with almost as many people hating them as loving them. But one thing everyone can agree on is that tomatoes are very healthy with loads of benefits when eaten regularly.
First off tomatoes are loaded with vitamins. Vitamin K, Vitamin A and Vitamin C can all be found in large amounts in tomatoes.
Tomatoes can also help improve your vision. Lutein and Lycopene are both good for your eye sight and both can be found in tomatoes.
Tomatoes can also boost your digestive health thanks to its fiber. However, Cooked tomatoes can become more acidic so people that suffer from acid reflux should be cautious of eating too much.
Take Away
Maintaining a healthy heart is an important part of becoming a healthier person. However, it is also important to treat yourself to something nice every once in a while. At weight loss direct We believe you can do both at the same time. By making meals that focus on including heart healthy foods you can work to improve your health while still enjoying a delicious dinner or dessert.
If you liked these recipes Weight Loss Direct has hundreds of healthy recipes to help keep our clients on track even if they aren't part of the program.
You can get full access to recipes and so much more with a monthly membership to the WLD Members Community Portal – get registered at https://community.weightlossdirect.com/member-portal-advantage/ or speak with a coach (833) 565-0729!