Last week we talked about some of the crazy health benefits of pumpkins. This week, we want to give you some simple and easy recipes to keep you in the pumpkin mood. These recipes will help incorporate some of those nutritional benefits in an easy and tasty way. While most of these might not be a whole meal, we're looking to provide recipes that can easily be incorporated into your current nutritional routine. We'll share a few pumpkin recipes that we found; try them out and let us know how you liked them!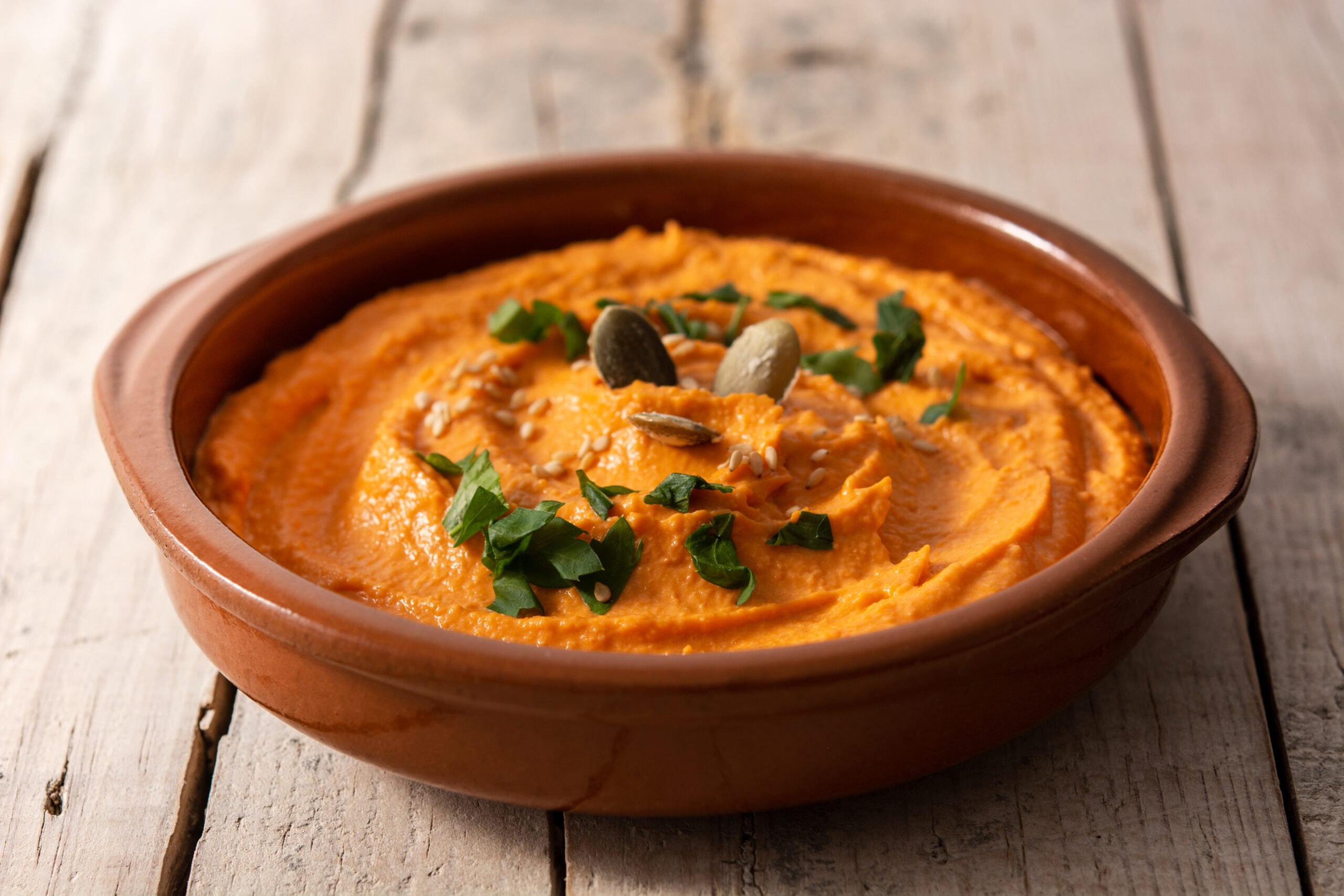 Hummus is a great and versatile food. It can be eaten as a small snack, or brought out in bulk for an office party. You can even switch from crackers to veggies as a dipper to make it even healthier, while switching between the different flavor profiles of each veggie. Or better yet: go at it with just a spoon! This roasted garlic and pumpkin hummus has all the taste you'll need, no matter what the situation. The chickpeas in the hummus have a bunch of dietary fiber that aids in digestion, while the garlic acts as an anti-inflammatory and immune system booster. All in all, this hummus is definitely a win in our books!
Ingredients
FOR THE ROASTED GARLIC
1/2 c. olive oil
3  cloves garlic, smashed
FOR THE HUMMUS
1 15.5-ounce can chickpeas, drained
1 c. canned pure pumpkin puree
2 tbsp. lemon juice, plus more if needed
2 tbsp. tahini
1/2 tsp. pumpkin pie spice
Kosher salt, to taste
1/4 c.
pumpkin seeds
Crackers and cut-up vegetables, for serving
Directions
For the roasted garlic: Preheat the oven to 375 ̊. Place the olive oil and garlic in a ramekin or small baking dish and roast until the garlic turns a light golden color and becomes tender but does not brown, 15 to 20 minutes.
For the hummus: Add the roasted garlic plus 2 tablespoons of the oil from the ramekin to a food processor (reserve the remaining oil). Add the chickpeas, pumpkin puree, lemon juice, tahini, pumpkin pie spice and a nice pinch of salt. Blend until smooth, then add a bit more of the roasted garlic oil. Taste and add a bit more salt and lemon juice if needed. Spoon into a bowl and pour any remaining roasted garlic oil over the top; cover and refrigerate at least 2 hours.
When ready to serve, cook the pumpkin seeds and a pinch of salt in a skillet over medium-high heat, tossing, until the seeds are fragrant and develop a bit of a sheen, about 4 minutes. Season with a pinch of salt. Sprinkle the toasted pumpkin seeds on the hummus and serve slightly chilled or at room temperature with crackers and cut-up vegetables.
This pumpkin soup recipe from AllRecipes is great: it's simple, it's easy, it's quick, and it's a great fall way to get all of the vitamin A and fiber from pumpkin. As well, the spices used, sage and nutmeg, help put you right in the fall mood. Homemade soups are good too, since you can avoid all of the extra salt in canned soups, keeping your body in better balance. It's great for a light lunch or as an addition to a full Thanksgiving meal.
Ingredients
3 cups chicken stock
3/4 cup heavy whipping cream
1/4 teaspoon ground nutmeg
1/2 teaspoon ground sage
1 1/2 teaspoon salt
4 tablespoons sour cream
Directions
Preheat oven to 400 degrees F (205 degrees C). Cut pumpkins in half and scoop out seeds. Spray a cookie sheet with non-stick cooking spray. Place pumpkins, flesh side down on the cookie sheet and roast until soft to the touch, about 45 minutes. Remove pumpkins from oven and let cool. Once pumpkins are cool scrape flesh from skins into a food processor. Discard skins.
Add chicken stock to the pumpkin and puree. Pour soup into a large saucepan and bring to a simmer over medium heat. Stir in cream, nutmeg, sage and salt. Mix well and remove from heat. Serve garnished with a dollop of sour cream.
We love this recipe because of how simple it is! It's a great side dish to add to the holiday table, or even use it to replace a carb-heavy side that might hold a lot of empty calories. On top of all the vitamin A you'll get from the pumpkin, we've found that goat cheese holds a whole bunch of protein, giving this side a lot of nutritional diversity. While this recipe does come with a bit of sugar, you could choose to not use the sugar and leave just the natural sugars in the maple syrup and pumpkin to contribute to the flavor profile.
Ingredients
1/4 cup balsamic vinegar
2 tablespoons maple syrup, or to taste
2 tablespoons olive oil
1 teaspoon garlic powder
1 teaspoon onion powder
1/2 teaspoon kosher salt, or to taste
1/4 teaspoon freshly ground black pepper, or to taste
2 ounces crumbles goat cheese, or to taste
1 tablespoon chopped fresh oregano
Directions
Preheat the oven to 375 degrees F (190 degrees C). Line a large baking sheet with parchment paper.
Place pumpkin onto a secure cutting board. Cut the top and bottom off the pumpkin, removing as much of the stem as possible. Use a sharp vegetable peeler or a paring knife to remove the pumpkin peel. Cut pumpkin in half, and use a spoon to scoop out seeds and strings. Trim away any pieces of stem that may remain. Cut each pumpkin half into 1/2-inch strips. Chop each strip into 1/2-inch cubes. Place cubed pumpkin into a large bowl.
Mix balsamic vinegar, maple syrup, olive oil, garlic powder, onion powder, salt, and pepper together in a small bowl until thoroughly combined. Pour over pumpkin pieces and toss to thoroughly coat. Pour pumpkin into an even layer on the prepared baking sheet.
Bake in the preheated oven for 20 minutes. Stir gently, then continue baking until pumpkin is softened and slightly caramelized, 25 to 30 minutes more, stirring again if needed. Serve pumpkin warm, topped with goat cheese and fresh oregano.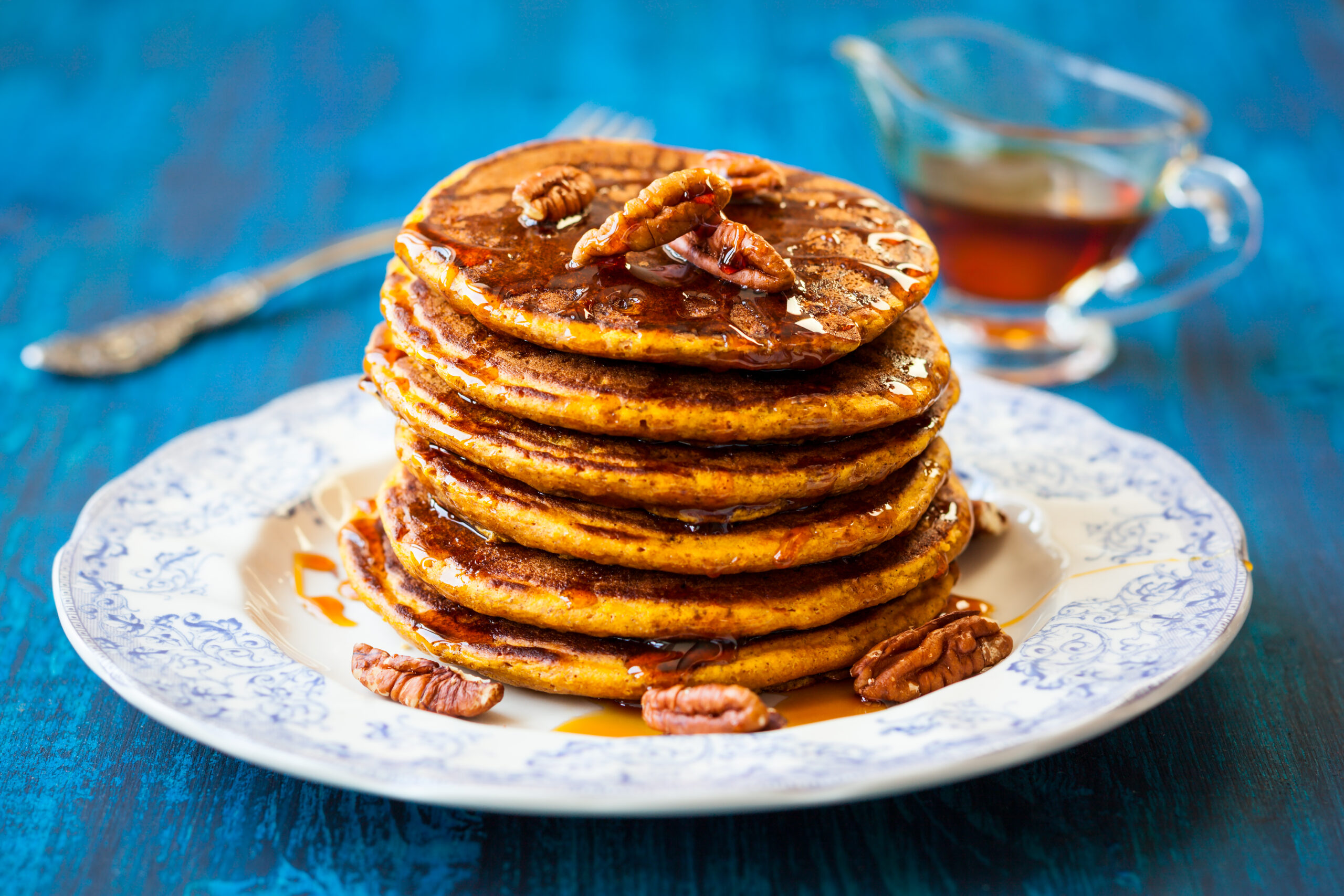 Pancakes can be an empty calorie breakfast option that can start your day off with little nutrition and a lot of, well, nothing else. This recipe for pumpkin pancakes changes that completely! This recipe uses less flour and replaces it with pumpkin, giving it a much-needed nutritional boost. The recipe also uses ricotta cheese, a great source of healthy fats and protein. Top this pancake with some protein-packed walnuts or pecans, and you'll have a pancake recipe you'll be wanting to eat all year long!
Ingredients
1/2 cup butter, cubed
1/4 cup maple syrup
1/2 teaspoon ground cinnamon
1/4 teaspoon ground nutmeg
1/2 cup chopped pecans, toasted
1-1/2 cups all-purpose flour
2 tablespoons packed brown sugar
2 teaspoons baking powder
1 teaspoon salt
2 large eggs, room temperature
1-1/3 cups 2% milk
3/4 cup canned pumpkin
1/2 cup ricotta cheese
Directions
In a small heavy saucepan, cook butter over medium heat for 8-10 minutes or until golden brown, stirring occasionally. Add the maple syrup, cinnamon and nutmeg. Remove from the heat; stir in pecans.
In a small bowl, combine the flour, brown sugar, baking powder and salt. In another bowl, whisk the eggs, milk, pumpkin and cheese. Stir into dry ingredients just until moistened.
Drop batter by 1/4 cupfuls onto a greased hot griddle; turn when bubbles form on top. Cook until the second side is golden brown. Serve with cinnamon butter.
Try Them Out!
Which recipe will you be trying out this fall season? Let us know! Or, better yet: let us know how you're using pumpkin in your cooking and baking. We're always looking for the next greatest way to incorporate better nutritional options into anyone's diet.