Stress eating is a real problem, especially during the holiday season. Between traveling and visiting family, the time between Thanksgiving and Christmas can feel like a blur of a moment where we allow many things, including our health and nutritional goals to be put aside. In an article by Kaitlin Dannibale titled "The Effect of the Holidays on Eating Disorders," Thanksgiving and Christmas are associated with a 14% increase in eating compared to other holidays.
Calling holidays with high caloric intakes eating holidays, Dannibale states, "eating holidays are known as the point of highest caloric consumption in the United States."
All of that eating isn't purely associated with the Thanksgiving feast, though. While some of it is the second helping of stuffing, much of that increased eating comes from stress eating. But what is stress eating? And why do we fall prey to it even more during the holidays? We'll look into the science of stress eating, along with some ways you can help try and avoid this nasty holiday habit.
What is stress eating?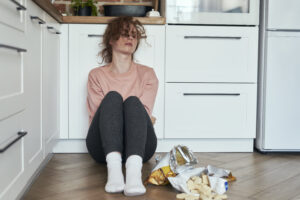 Also called "emotional eating," stress eating is a pattern of eating where people use food to help them deal with stressful situations. Many people stress eat during all times of the year. Work, family, friends, and life in general create moments of stress. However, the combination of high stress and copious amounts of food around us create a volatile scenario in which we have many more opportunities to replace our stress with food.
Stress eating is also called "emotional eating" because of its association with our moods. When we feel emotions such as stress, apathy, or nervousness, it tends to create a reaction in our guts. Our digestive system even has its own nervous system, called the enteric nervous system. This specialized nervous system is highly connected to our typical nervous system, which is why when we have strong feelings, we get a "gut reaction." Stress eating is just another one of these many interactions it creates.
Why do we do it?
Oftentimes we find ourselves stress eating over specific triggers, which is why it is so prevalent during the holiday season. Stressful triggers are abound when you're traveling constantly, interacting with friends and family more, and putting yourself at an overall higher stress level than, say, Labor Day weekend.
But more specifically, we stress eat because our brains find it comforting. When stress and sadness snowball into each other, we look for quick and simple ways to bring up our mood. Since food is so readily available to us, it's an easy place for our brains to fixate and abuse during times of stress.
The time between Thanksgiving and New Years is the most stressful part of the year.
The holidays are a wonderful time of year because of all the delicious and wonderful food we cook, bake, and eat. If you're susceptible to stress eating, however, the stress the holidays produces can be increased even more.
Stress and the holidays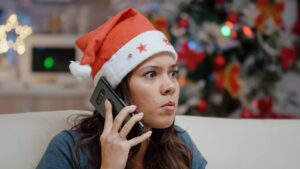 Some people say the holiday season is like having a part-time job. And it's true to some effect; we're constantly doing things: decorating the Christmas tree, putting lights on outside, traveling to visit family, these things take up time and effort that normally goes into relaxing after work, sleeping in later, or taking care of ourselves.
Finding time to destress and relax during the holiday season is essential for your mental wellbeing.
Even if it's at the detriment of doing holiday activities, keeping your personal stress low is important, both in terms of stress eating and other mental health issues around this time such as seasonal depression or other eating disorders. Understanding our bodies is only the first step in taking better care of our mental health; creating appropriate reactions is the next one.
How can we prevent stress eating?
It's important to recognize triggers and be mindful of our own bodies. Just as it tells us when we're hungry or hurt, our body tells us when it's uncomfortable or anxious. Being aware of those moments and watching for potential moments like that are an important step towards self control and maintaining a healthy habit for the long term.
Tracking our behaviors and what we eat can be important. Creating a food journal, even without tracking things like calories or macronutrients, can help create a greater awareness of what we are eating, how much, and the reasons why we are eating. Did we eat this meal because we were hungry, or because we just wanted something? Were we bored and decided to fill that time with eating instead?
It's also been proven that holding to a lifestyle program can help keep a healthier mindset. According to a study done by Shawn Talbott, a PsychoNutritionist, lifestyle programs have a statistically significant effect on keeping people on their nutritional goals than when they had no program. It is unsure of which aspects of a lifestyle program specifically create this effect, but many theorize that it's due to the focus on what, how, and when we eat that creates more mindful attitudes towards what we eat.
A good question to ask when thinking about eating is "why am I eating?" If the goal is to eliminate hunger, or even to enjoy the tastes of the food, then eat away! But if you're just feeling bummed or are bored and are looking for something to fill the time with, maybe figure out another way to spend your time.
Take things at your own pace, and recognize when you need to pull away from the holidays for a moment of clarity. Create and maintain specific times or activities to destress. Breaking up the holiday stress with activities and planned leisure time can be a good way to maintain a healthy level of stress without overdoing it. It also gives you moments to reflect on how you are doing and if you need to alter your schedule in anyway.
Being more mindful can both lower the amount of stress we are under and allow us to be more conscious and purposeful with our food choices. Finding ways to lower our stress will allow us to be more present for the holidays and make more purposeful choices, especially in what we eat.